Sustaining interest
The last 5 weeks have been a bit of a roller coaster.
Never one to do things by half, I set my standards high from Week 1, adding a visual note alongside my blog post. It seemed a great way for me to summarise the weeks learning and to communicate it back into the community. But it does take time, being a perfectionist.
Having said that it has generated interest and I enjoy it, and it allows me to work out how well visual thinking can help solidify thoughts and ideas. An idea I really want to put back into my school for the students.
The 2 headed monster
As the first few weeks of Course 1 COETAIL evolved and digesting the readings added to the many ideas of how to use and embed technology effectively on the classroom, I started to use these learnings to figure out what I would like to change about the existing curriculum in Art and through my connections with students. As I grappled with the planning of a new Sculpture unit aimed at helping Grade 7 to understand Sustainability, it seemed crucial to help them to find the information themselves. In turn they will learn about connecting and collaborating, sharing and informing with technology firmly at the heart of their work supporting and enhancing their Art.
But it was also on Week 5 that a simple idea sprung up spinning off from the fun Matt and I were having connecting through Twitter and sharing visual drawing prompts for our students. It occurred to me that we can connect a whole lot further and use the internet connections to help build ideas and gain knowledge.
So I have ended up with 2 Course 1 final projects!
1. The BIG unit: "Food for Thought", with Technology sandwiching the Art
2. The Art Remix project that is still just an idea but is now starting to take shape.
For the final project for Course 1 it makes sense for me to go with my first thought, Sustainable Sculpture as this is where I believe the technology will really transform the learning, take the students forward and give them a starting and end point to the project. #artyremix will take a slight backseat whilst it is in its development.
What most affected me throughout Course 1 was the power of connections. How little one might know and how quickly we can grow through the expertise of others.
The unit I am planning is a Sculpture Unit with the umbrella theme of Sustainability. I have always been intrigued by the notion of how far our food travels from field to table and it is with this that the unit evolved. Having lived in Italy, the blog post by Joe Teft reminded me of http://www.slowfood.com/ and how trying to source food locally and ethically in Singapore is virtually impossible!
Back in November I gatecrashed a weekend workshop ran by Mike Johnston at UWCSEA East. Connecting and working with others helped me to solidify how important it was to educate our youngsters in working towards a sustainable future. But what could a lowly art teacher do? I struggled to think how I could make a difference. Ideas were being thrown around the room but it was a particular slide that resonated a strong feeling in me. It illustrated a hamburger and the journey that it had taken from field to table. I searched the internet to find a similar one recently and found so much information, articles and infographics on the impact food has on our footprint and realised I had a lot of research still to do.
How bad are bananas? and tea, and ……
So I started some reading, "How Bad are Bananas-the carbon footprint of everything" by Mike Berners-Lee and chatted to others about the origins of the food on their plate. How much do we know and take for granted? Living in Singapore, nearly everything is imported, with a price tag. The milk in our cereal comes from Australia, the fruit from Malaysia, the cereal from England, the juice from South Africa and the coffee from Italy.  Are students aware of this? Do they understand the impact of their choices on both the environment and their bodies? Our Food Footprint seemed to me to be the focus for my next big unit. What impact are our choices having? I stumbled on an article shared on Facebook by my mother which took me to a link for action. It outlined  the horrific reality of our humble cup of tea and the literal price we are paying and I quickly realised that research was going to be key to this project. (You can read the article in The Guardian with accompanying video and sign the action at Sum of Us.
As I started planning my unit for Term 3, young Middle School students at East shared this video regarding Vegetarian Wednesday which contained an excellent slide visualising the journey  and the impact of a lettuce compared to steak. This is exactly what I had in mind and this Vimeo explains why visualisation is so crucial:
The bulk of the unit will be making a sculpture that clearly communicates the impact of food choices, giant plates of food, hung or displayed to gather interest and start conversation. Imagine a papier maché Teacup with people inside or a giant burger, Claes Oldenburg style or an installation of modified labels on bottles or cans.
So where does the technology fit in?
Students do not have the raw data, the base information to draw from. They don't have the skills to search effectively to gather, sort and use that information. So I figured I would bring that element into the unit early on. Blogging about Twitter and connecting with experts on line in Week 1 helped me conclude that this could well be the ideal forum for the students to pose their questions and get some answers. So my idea is to start a class Twitter account, link with specific experts and try to get some information to trigger their ideas for sculpture. Meeting with Nathan Hunt at UWCSEA Dover and his resident G12 expert, Nima, we struck a plan together that looks something like this:
1. Students brainstorm the origins of their food, daily meals and ideas they have of the impact from what they choose to buy and eat
2. Students research online – where, who, how do we find out; youtube, google (Messing about)
3. Use Twitter to connect with experts (Reaching out)
4. Collate findings, sifting through and selecting
5. Ideas and creation of installation art/sculpture
6. Make video/PSA/animation to communicate the issue
7. Share video with the wider community, social media (Going Viral)
8. Track the results and seeing the feedback
The other side of the sandwich: Going Viral
Following the practical Art side of the unit, the students will hopefully feel compelled to share their learning to a wider audience. Andrew MacCarthy and I contrived a plan to do this effectively:
Students would use their data and the sculpture itself to trigger a 30 second PSA video, tweet and share it on YouTube to see how far it will travel to go viral.
UbD planner
But what of Artyremix?
Don't worry, I haven't forgotten it! I am just trying to find the best and most effective way to share, spread and display the art remixes. Suggestions so far are:
Pinterest: a shared board to download and upload to (my favourite option so far) but requires artists to join the board – emailing or adding  issues?
Instagram: great to use the hashtag #artyremix but not the greatest of quality in downloading the image initially
Google: maybe adding to a public folder for upload and download purposes then displaying on Instagram/artsonia/Pinterest?
Thoughts anyone?
I would love to get this second idea off the ground soon. I am sure my students doing the daily warm up would love to remix someone else's artwork either digitally or traditionally then to see how it journeys and evolves across the world. Paul Fairbrother has remixed my eye drawing avatar to start it all off currently on Pinterest, so anyone else, suggestions, ideas or just get going and we can figure it all out as we go!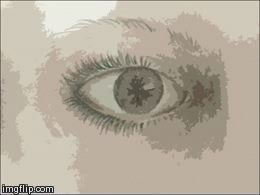 Let the game commence……..